UPDATE: our election night tracker for the Chicago's Mayor's race is now live:
2015 Chicago's Mayor's Race Election Night Tracker
End of update.
The Chicago municipal elections are on Tuesday for all 50 aldermen/women, the Mayor, the City Clerk and the City Treasurer.
Since the last Chicago municipal election in 2011 the City of Chicago has redrawn their ward boundaries. The Mayor's race is not expected to be close on Tuesday but it is expected that Mayor Emanuel will come very close to reaching or exceeding the 50% + 1 threshold needed to avoid a runoff. I thought it would make sense to take the precinct level data from the 2011 Mayoral election and reconfigure those vote totals based on the new ward map. Some of the wards are similar to the 2011 map but some, such as the 2nd ward, are very different. I think it will be interesting to see how the Mayor's 2015 numbers compare to his 2011 numbers and this will give a better apples to apples comparison.
Download 2011 Chicago Mayor by 2015 Ward Boundaries
I took the shapefiles for the 2011 citywide precincts and dumped that into some GIS software and ran an "Intersect" against the shapefiles for the current ward boundaries. I then used the percent of land area to assign a percentage to precincts that covered multiple wards. This is not exact for reasons I won't bore you with but it's pretty close. If you download the link above you'll see a summary sheet with the data I just described as well as a worksheet that shows the precinct by precinct analysis and also there's a sheet that shows the percentage of voters by race in each ward from census data. You may find any or all of that useful.
State of the Mayor's Race
Both the City Clerk's race and the City Treasurer's race feature unopposed incumbents so the only actual citywide race is the Mayor's race.
Thanks to the team at Aldertrack, this cycle's indispensable daily must-read for all Chicago related election news, who teamed up with pollster Ogden & Fry for a regular tracking poll we have this graphic below showing how little traction the challengers have made.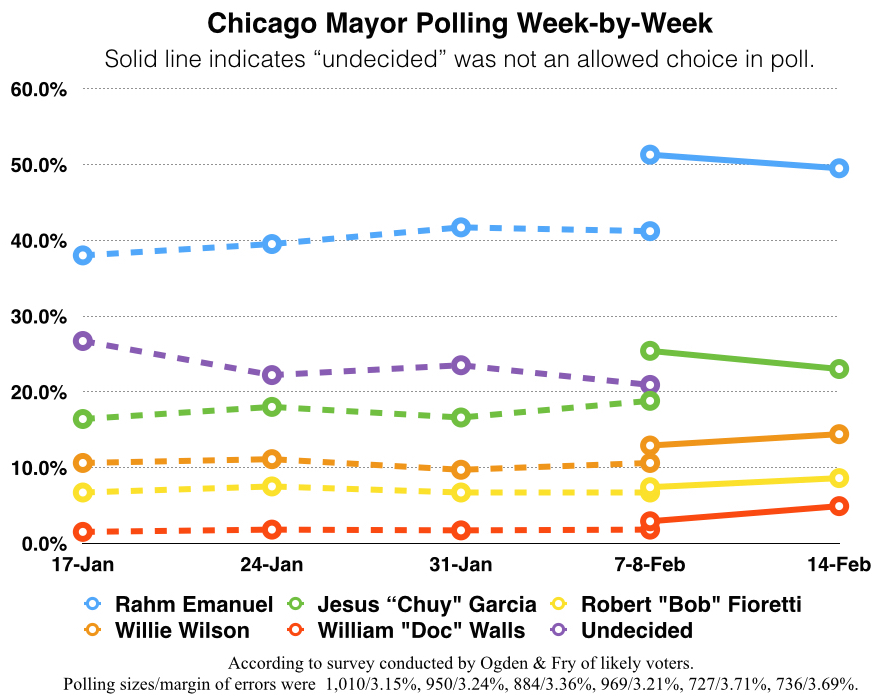 Prior to the start of early voting the Mayor was polling in the low 40's, undecided was in 2nd place in the low 20's and the challengers were either in the teens or single digits. Since the first week of February when early voting started they have stopped offering undecided as an option and the Mayor is hovering right around 50% with his challengers well behind. Unless something really unexpected happens Emanuel will finish first on Tuesday and the main point of interest will be to see if he can beat the 50% + 1 threshold needed to avoid a runoff. (Emanuel avoided a runoff in 2011 with 55.28% of the vote)
I am going to spend some time over the weekend looking at building a dashboard for the Mayor's race. If I can make it work the way I hope I may turn it on for election night on Tuesday. I'm mainly interested in seeing in real time how the Mayor is doing against his runoff threshold and how each ward compares to his 2011 numbers. If I can build a straightforward easy to read dashboard that auto-updates every 2 minutes or so I'll make it live and distribute the link. Keep an eye on the Illinois Election Data Twitter account @ILElectionData and I'll try to let you know by Monday if I think I can do something for Tuesday night. (Why is there always a Hawks game on election night?)
Chicago Board of Elections Website
The Chicago Board of Elections already has live links to their 2015 Municipal election results in their Election Results section. If you go to their website then click on Election Results you'll see that in the dropdown below you can select "2015 Municipal General - 2/24/15" as one of the options. From there you can select whatever race you want. None of the race pages have numbers yet, obviously, but it's nice that the links are live and available so that you know where you can find the results when they're available.
---
A note about Aldertrack: this group of political hobbyists have spent the last few months amassing a wealth of political information and making it widely available for little or no cost. You can buy their data-rich Racing Form for $10 (it's actually currently free until election day but if you find it useful you should give them some money). Also you can sign up to receive a free daily email that includes original reporting, polling, reports from the field and a news roundup for all the Chicago races. I highly recommend.
At at time when news organizations are downsizing both Aldertrack and the also terrific Illinois Observer have been very welcome additions to the Illinois political news scene. I am not affiliated with either organization.