I'm thrilled to announce two new developments for the 2018 cycle, 1) we now offer a subscription service for immediate notifications for all different types of filings, and subscribers will have full access to all of the reports on districts, races and campaign financial status available to subscribers in the SUBSCRIBERS section, and 2) we have created a free iPhone/iPad app now available in the app store, there is plenty of useful information available to anyone who downloads the free app and ILED subscribers can log in the app and access all of their subscriber information as well.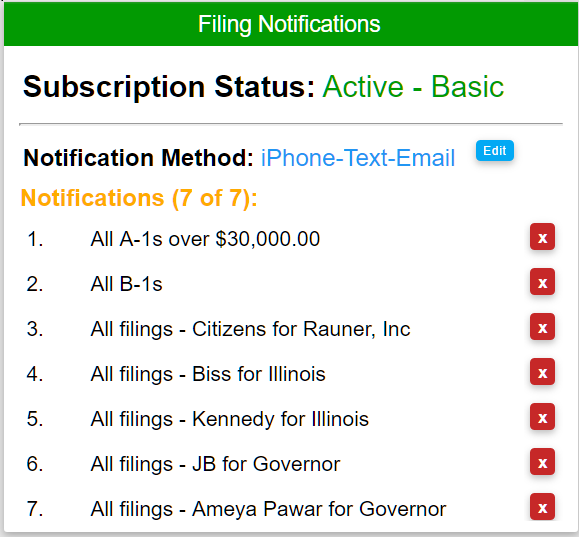 I often tweet out many of the most interesting campaign finance news just moments after the latest reports are filed because I've programmed my server to send me an alert anytime something interesting happens, now I want to extend that functionality to you. For just $15/mo (roughly the cost of a single cab ride) you can sign up to receive immediate notifications for various types of filings. This is great for campaign managers who need to keep an eye on their opponent(s), you can sign up to receive an immediate notification any time one of your opponents has a new filing. You can receive a notification in any or all of three different ways, 1) by email; 2) by text message and/or 3) by iPhone/iPad notification from the app (this is the quickest and most reliable of the three options).
Full Subscription Details and Instructions
In addition to notifications subscribers will have access to the SUBSCRIBERS section (in the nav bar above). There are all sorts of great reports in the subscribers section including district profiles, financial summary reports for each race, cash on hand reports for every state and federal candidate, leadership committee and IE committee as well as summary and detail reports for all IE spending. The reports cover all statewide, legislative (state senate and state rep), congressional, Cook County countywide and Cook County board races. Click on the SUBSCRIBERS section link to see a list of all the reports that subscribers will have access to.
For anyone that might be interested or is considering signing up take a look at the subscription details and instructions page. There you can find tables that specify the type of notifications you can sign up for and all of the reports that are available to subscribers. There is also a step by step instruction guide on the right side that explains how to sign up.
Who should subscribe:
- Campaign managers
- Opposition researchers
- Consultants
- Anyone who is closely tracking any or many races

Who maybe shouldn't subscribe:
- Congressional campaigns - unfortunately there just isn't enough new info on a day to day basis to justify paying a monthly fee
New iPhone/iPad app
A new Illinois Election Data iPhone/iPad app is now available in the App Store.
The app is now available in the App Store and is free to download and it contains plenty of useful information at no additional charge. In addition to all of the freely available information, subscribers can log in and access all of their subscriber data through the app including instant notifications.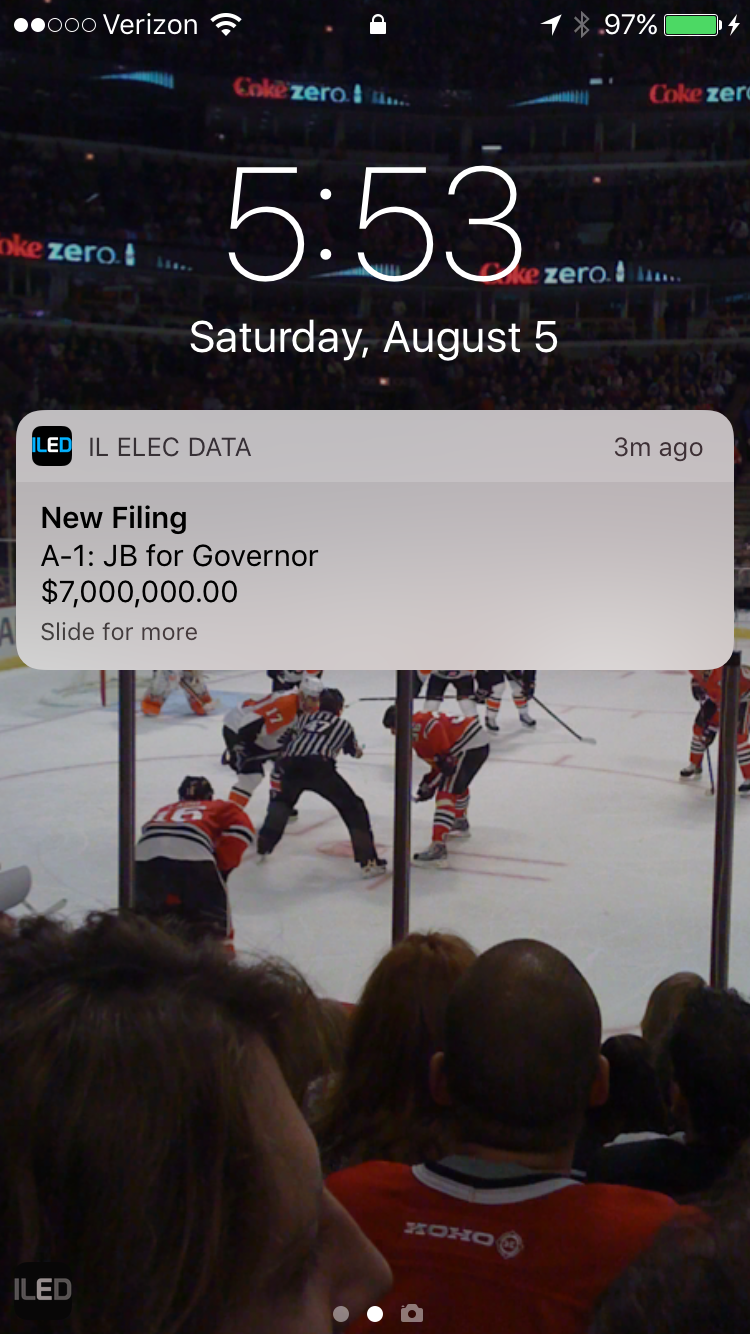 Congressional District Profiles
I have district profiles like this for every congressional, state senate, state representative and Cook County board district in the subscribers section. However since congressional races don't really generate enough new content day to day to justify a subscription I'm releasing these congressional district profiles for free.
Other Options
ILED subscriptions are not for everyone, some of you need access to this type of information occasionally but not often enough to justify a monthly subscription. You may remember that last cycle I helped publish something called "The Illinois Racing Form" with The Daily Line (formerly Aldertrack). I am no longer involved with the publication of the Racing Form but I think they are doing that again this cycle. I believe they plan to generate a large document with plenty of useful campaign info that they will update from time to time that is available for a one-time fee. Check with them for details but something like that may be a better fit for some of you.